Enjoy the views of Teide National Park with our Tandem Flight from Izaña
Enjoy the most beautiful views of Tenerife! We´re taking off from 2.200m altitude and be prepared to be amazed by the continuous change of landscape and the sea of clouds that briefly might engulf us. We´re going to land on the beach in Puerto de la Cruz or Guimar´s little harbour depending on the weather conditions
The tandem flight from Izaña is one of our most special products. With its take-off on the Teide slopes (2.200m altitude) and landing on the beach (0m altitude), it is one of the flights with the biggest altitude difference in Europe. It has a duration of 35 to 45 minutes and it may offer the possibility to fly through the famous sea of clouds depending on the weather conditions.
If you´re looking for a rush of adrenaline, please check out our Extreme flight.
Cancelation policy:
The tandem flight from Izaña is subject to the weather conditions.
If the weather doesn´t allow us to fly, we offer you the possibility to fly another day or have a refund.
If you want to cancel and request a refund, you have to do it 72h prior to your flight.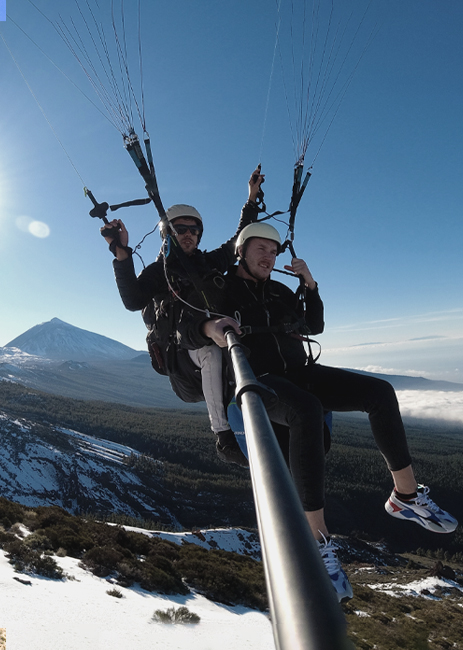 Vuelo parapente Izaña

$

180 €

VUELO ALTA MONTAÑA

Duración: 30-45 min
Vídeo y fotos: opcional
Transporte: incluído
Punto de encuentro: Parking Los Olivos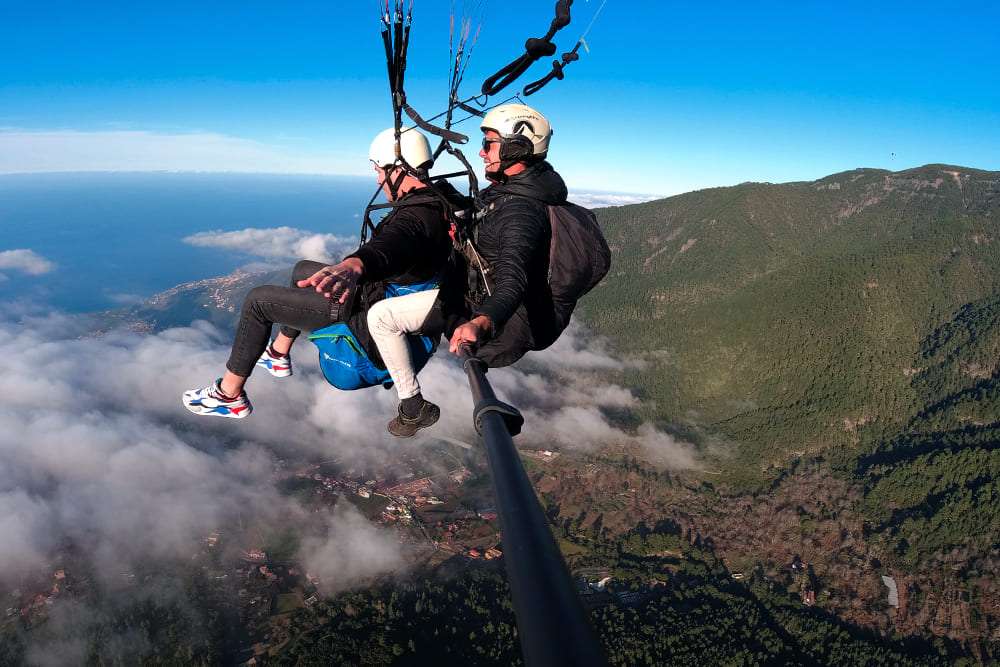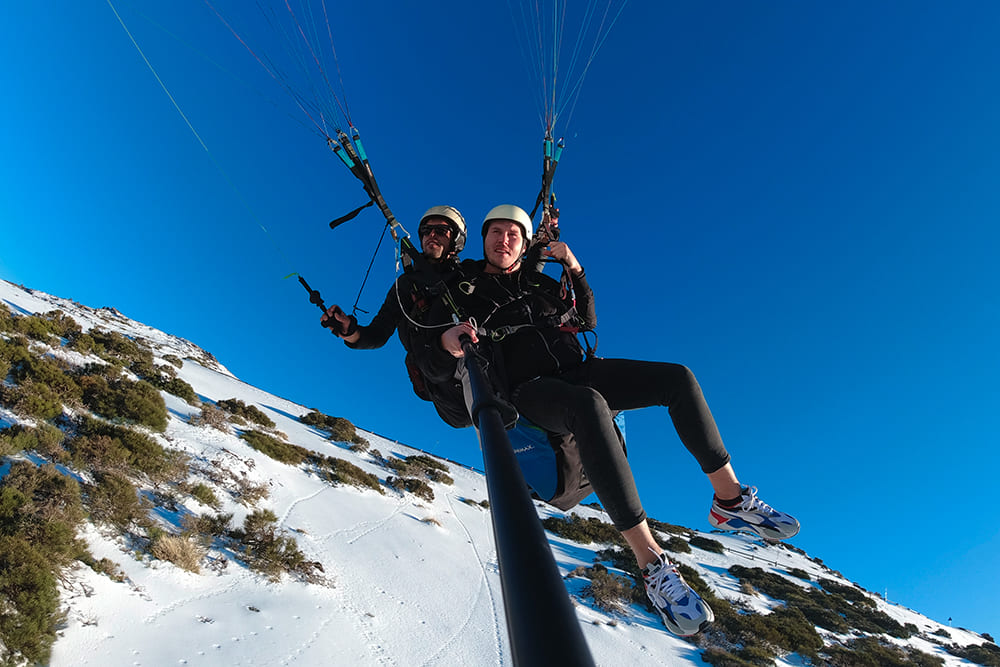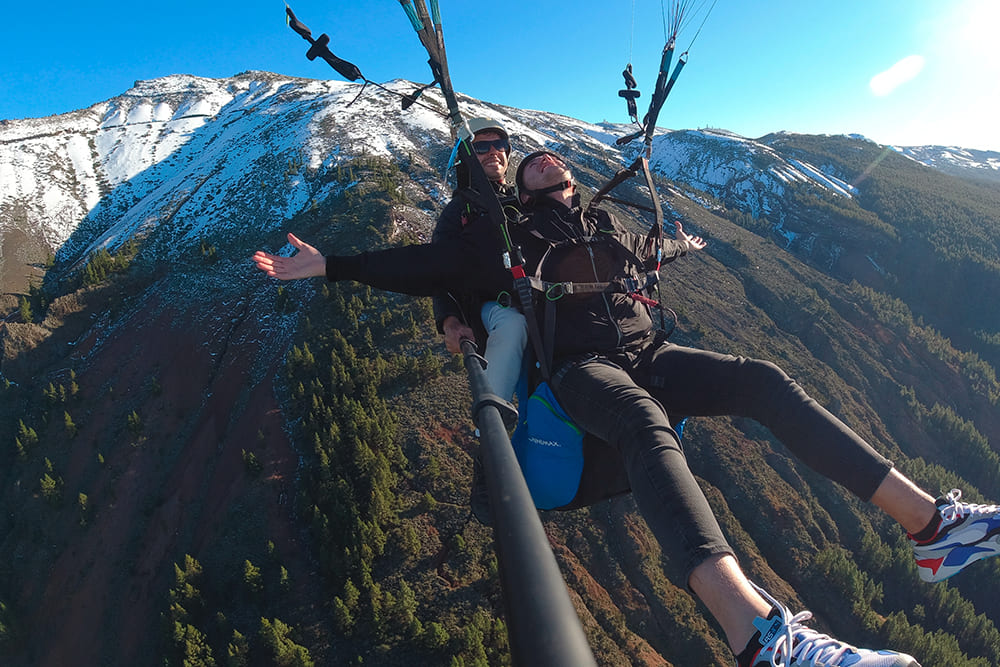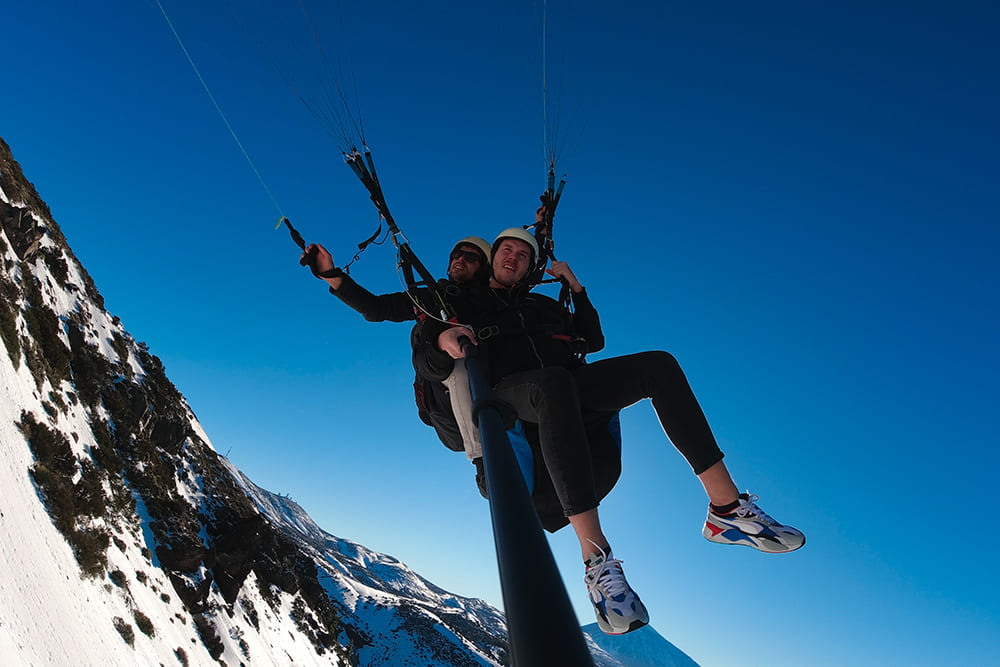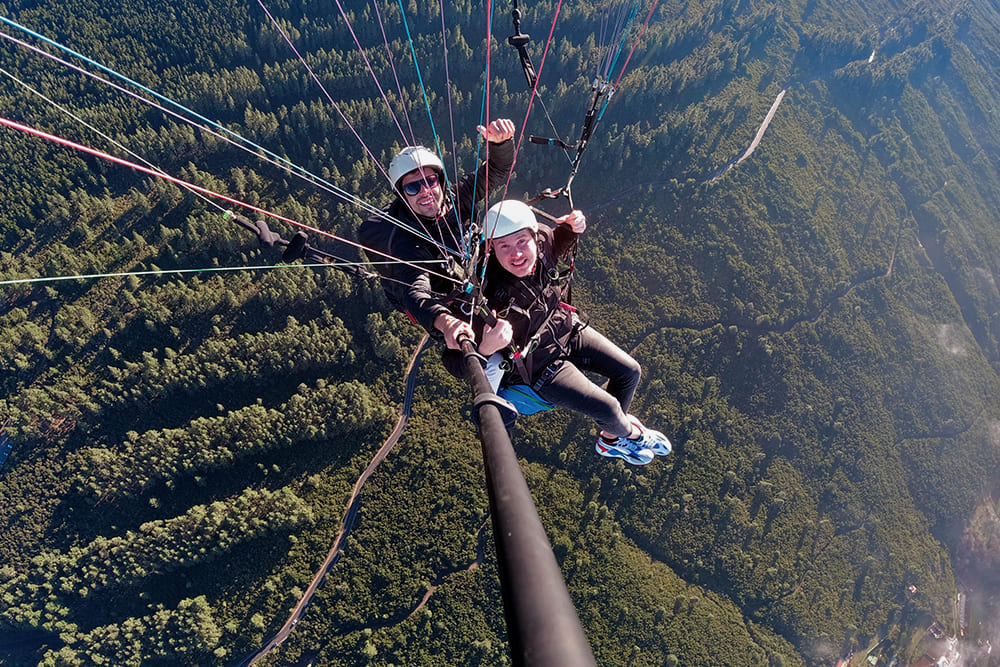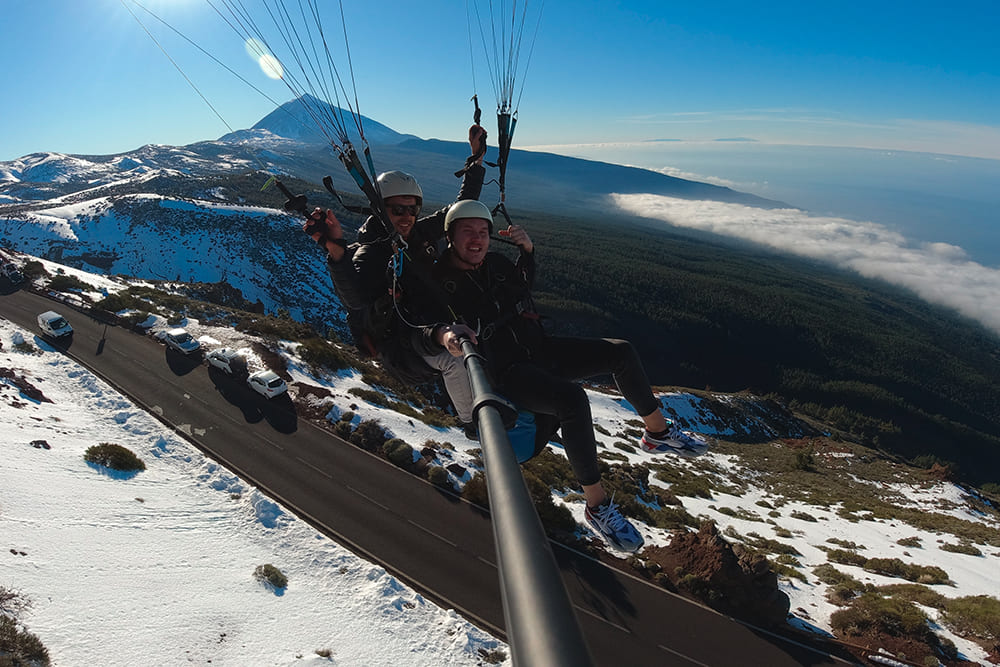 THE TANDEM PARAGLIDING FLIGHT FROM TAUCHO IN IMAGES
Here is a selection of photos of our passengers enjoying the tandem flight from Taucho and one of the most beautiful views of the skies of Tenerife. One picture is worth a thousand words, but you have to paraglide to truly know what free flight is all about.
Ver Galería
how many people can fly at the same time?
Regarding the free flight tandem, 4 persons or even more can fly tandem with us at the same time because we have a big team of tandem pilots.
Regarding the paramotor tandem flight, for now, we only have one paramotor tandem, which means we can fly one person at the time.  The advantage of the paramotor tandem flight over the free flight with a tandem is that both the take off and the landing are from the same area, which will also be the meeting point. This means that you can bring along as many friends as you want. If some of them will want to fly also, they can do it after your tandem flight.
what is the best season for paragliding in Izaña?
We live in a paradise, the kingdom of the eternal spring and we are open all year round, every day of the week. Tenerife offers reliable flying conditions through all the year, which translates into similar quality flight conditions regardless of the season.
Tengo vértigo ¿Puedo volar en parapente?
En parapente es fisiológicamente imposible tener vértigo, porque los pies no tocan el suelo.
Tendrás algo de aprensión antes de hacer tu vuelo, esto es bastante normal, porque no estamos diseñados para volar y esto se traduce en inseguridad.
Pero una vez que tus pies hayan dejado el suelo, todo tu estrés desaparecerá y dará paso al descubrimiento y al disfrute.
Si sueles tener facilidad para el mareo, si que es recomendable que consultes en la farmacia para que puedan ayudarte con algún complemento (Tipo biodramina) que te ayude a tener una experiencia de vuelo grata y placentera, descubriendo el sueño de hacer parapente en Tenerife.
There´s legally no age limit for tandem flying with an instructor.
Regarding the minimum age for children to fly with us, we would want for the children to be able to speak and the desire to fly must come from them without having been imposed by the adults. It´s also important that the child understands the flight instructions.
Regarding the maximum age for a tandem flight, the most important is that you really want to fly. We adapt our flights to the different mobility issues that a body full of wisdom might present. Until now, our oldest passenger is 93 years old.
do i need prior experience in order to tandem paraglide?
This one is an easy one. You don´t. Just put your sunglasses on and enjoy the views from the best view point, from a tandem paraglider! Most of our passengers are also flying for their first time.
A short run is needed for the take-off phase (no worries, it´s only 4-5 steps).
If you have a limitation that might limit your movements or you´re unsure if your limitation might influence the activity, please let us know with one day in advance and we will adapt the flight so you can have a safe and enjoyable experience.
Due to the fact that the take-off area is a rocky mountain area, it´s mandatory to wear sports shoes or hiking shoes.  On the other hand, although the sun is shining and it is hot on the coast, in the air it´s normally 10 degrees C cooler so we always recommend long trousers and a jumper or a jacket. Sunglasses are also recommended.
can i take pictures and videos during the activity?
All our tandem pilots have high-definition cameras correctly installed and insured and will be filming and taking photos of your flight. The use of any other electronic device is not allowed during the flight. All objects likely to fall during the flight are the responsibility of the pilot and the company and for this reason we only use devices that we are sure that have been correctly installed and insured.
Our cameras are installed so as not to disturb the movements of the tandem pilot in flight and are insured.
Of course, as long as we have available seats in our van. It is free of charge. If there´s no seat availability and he/she have their own car, they can come with us to the take-off.  Another option is to wait for you on the landing and see you land with the biggest smile ever. We´ll always recommend you the best option depending on the seats´ availability and the weather conditions.
Other flights you may be interested in
TAUCHO
Vuelo básico
15-25 min | 100 €
EXTREME

Vuelo Acrobático en parapente
Tiempo indefinido | 140 €
IFONCHE
Vuelo de media montaña
20 - 25 min | 120 €
PARATRIKE
Vuelo en paratrike (Paramotor)
15min | 140 €
¿Dónde quedamos?
Nuestro punto de encuentro