Daydream | Paragliding in Tenerife
Have you ever dreamt of being up in the sky? We also had that dream once, and we flew, and it changed our life…We´ve turned our dream into our way of living, and we´re making your dream come true, in the blue skies. We are sharing our passion with you and we will make your dream of flying come true, where we like it the most, in the sky. Join us!
These are our exclusive tandem flights in Tenerife. Choose yours and let´s enjoy together the experience of a lifetime, paragliding in the sky of Tenerife.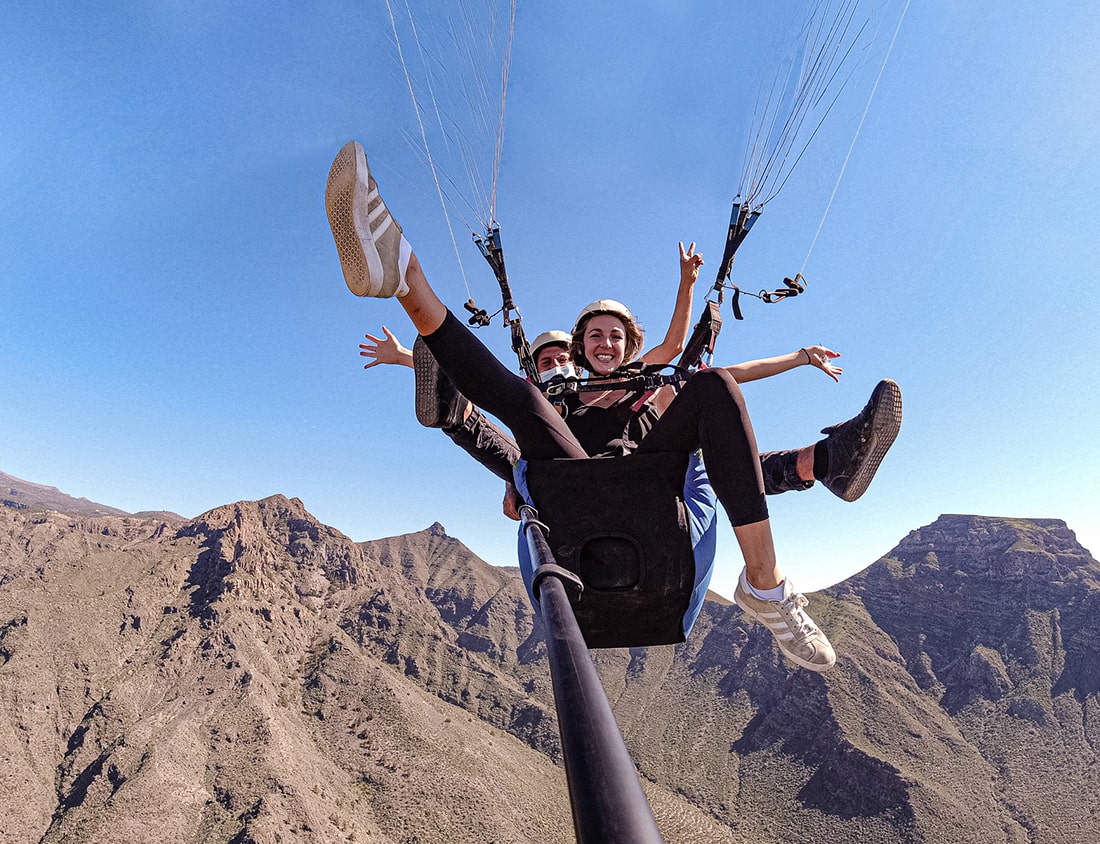 The tandem flight from Taucho
BASIC TANDEM FLIGHT
Basic tandem flight so you can enjoy the first experience of paragliding. 15-25min | 80€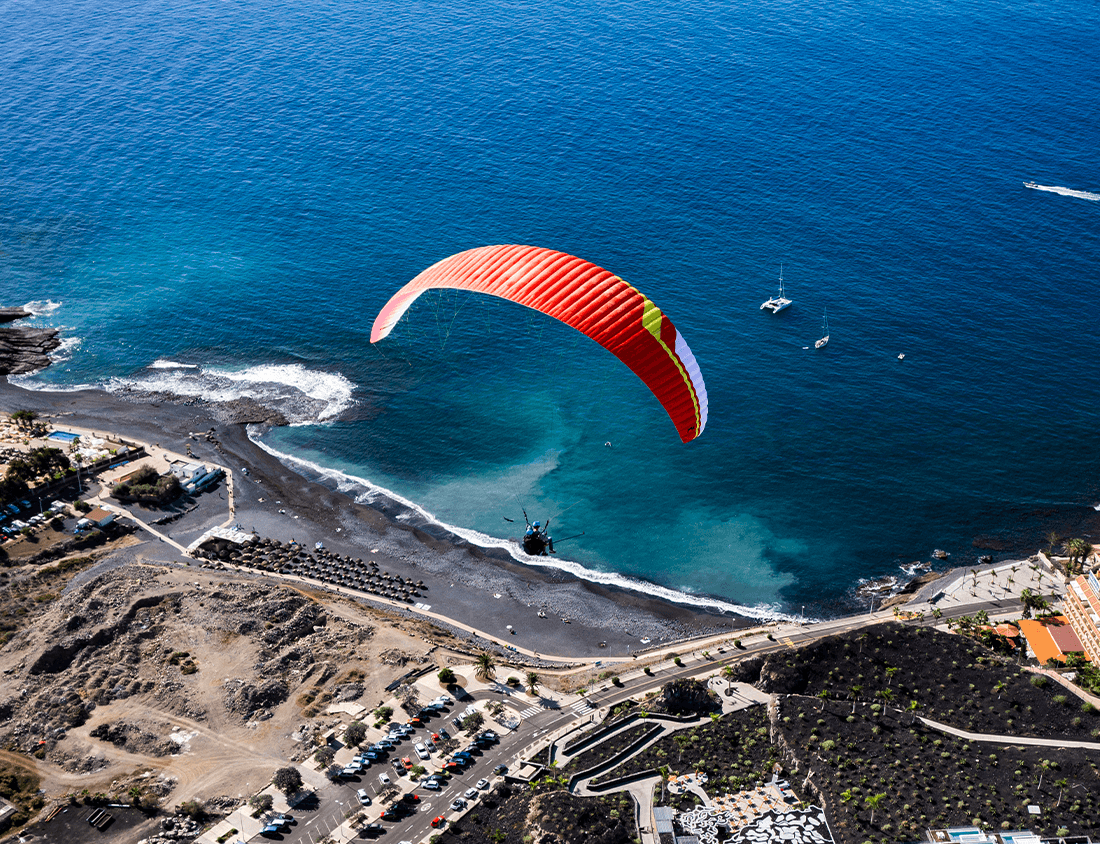 Daydream
LONG DURATION TANDEM FLIGHT
Long duration tandem flight providing spectacular panoramic views. 35-45min | 120€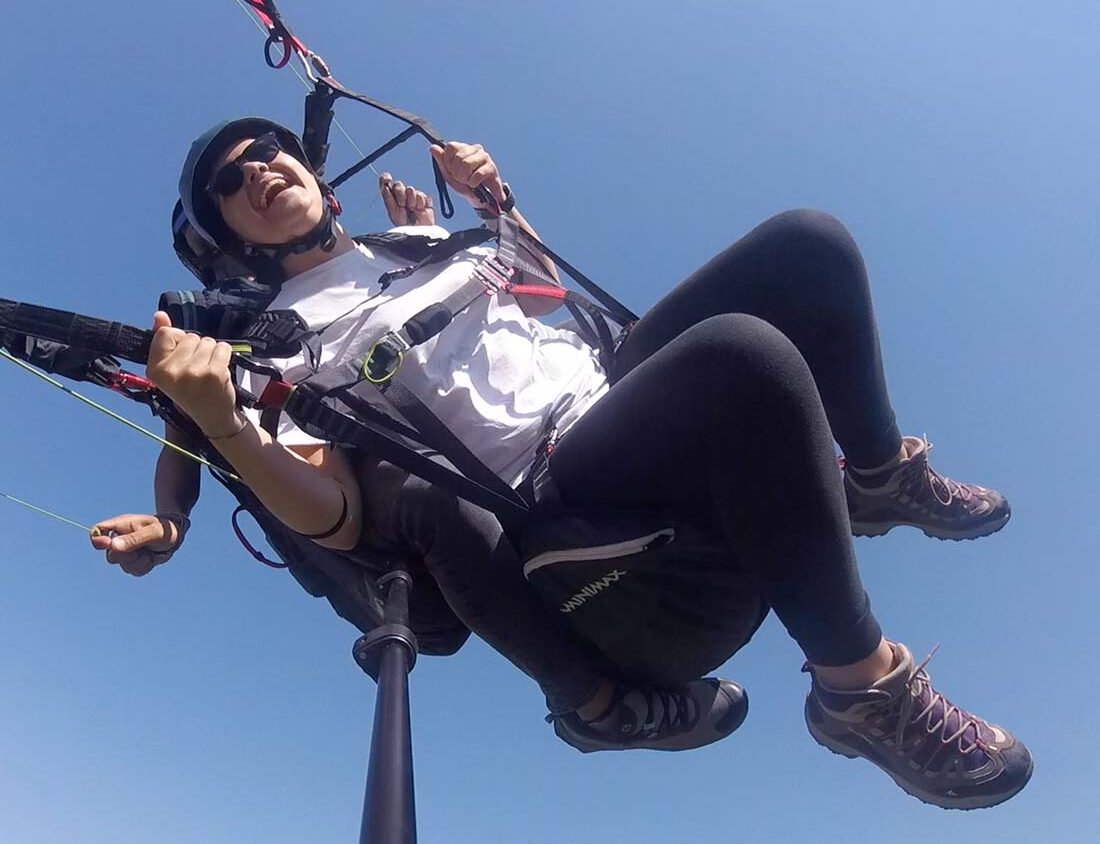 Extreme
ACROBATIC TANDEM FLIGHT
Exclusive acrobatic tandem flight, only with Daydream. Are you an adrenaline addict? If yes, this is definitely your flight. Enjoy amazing acro manoeuvres in a breath-taking landscape. Undefined duration | 160€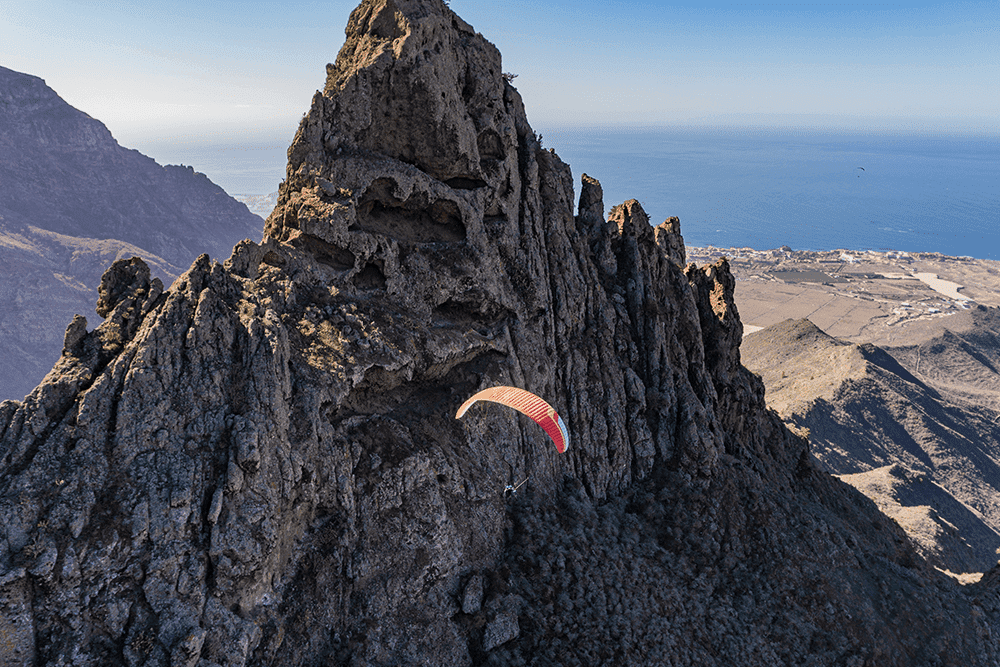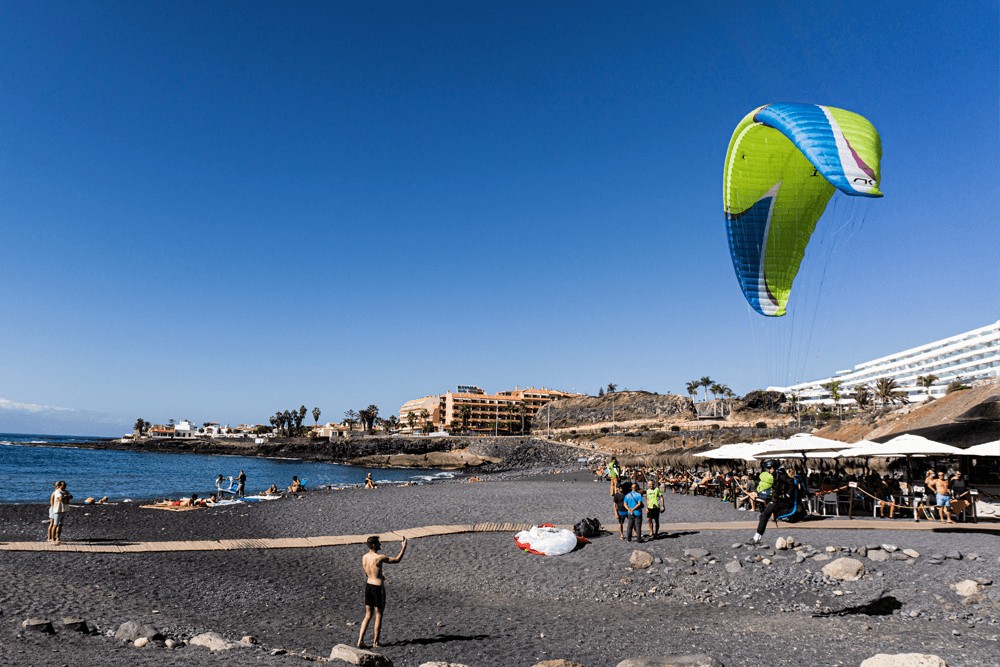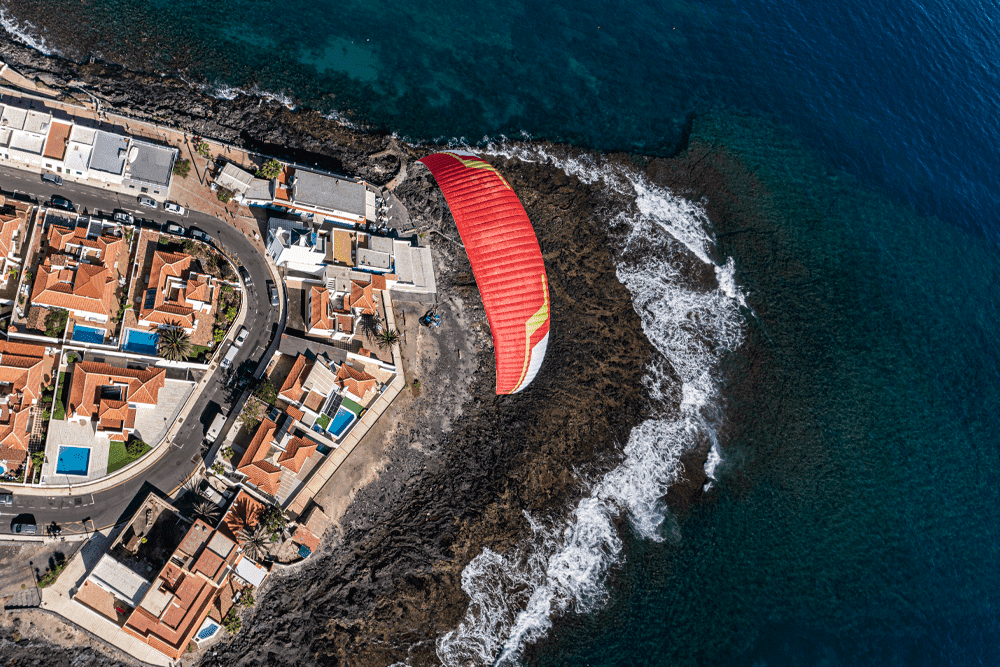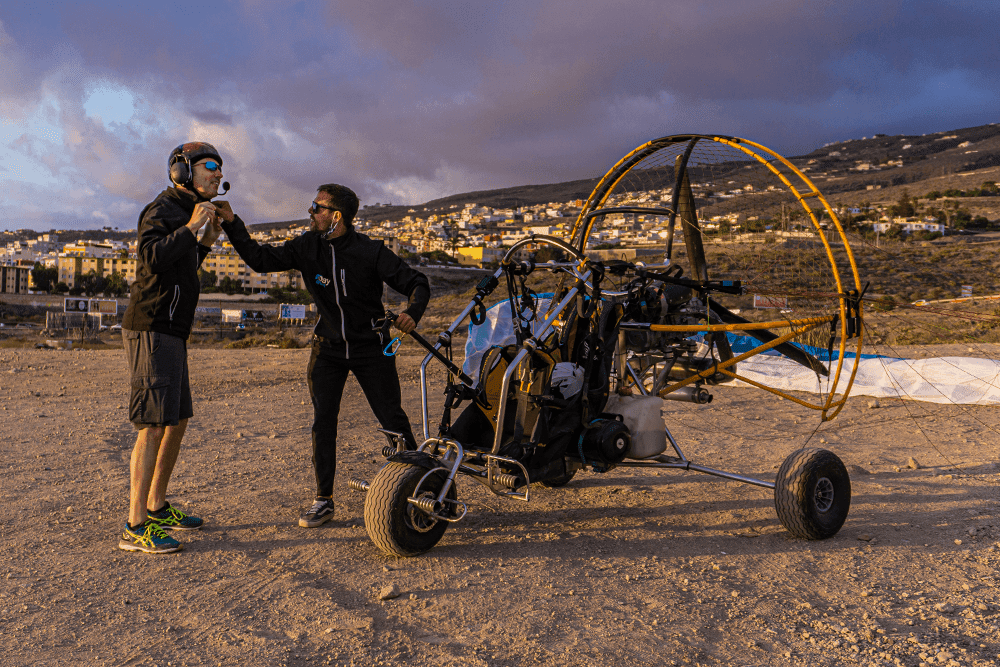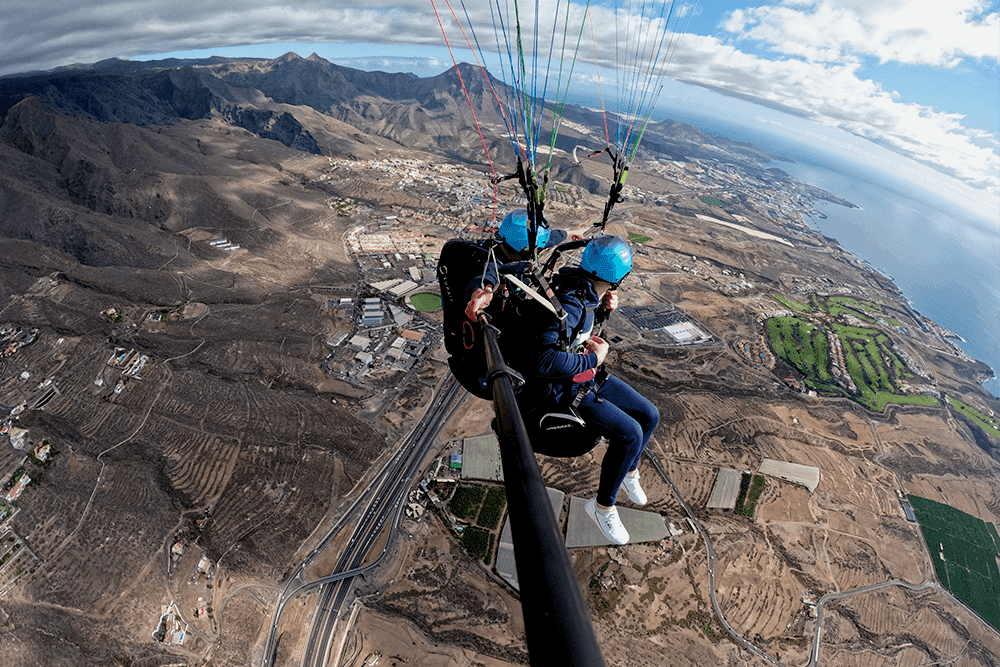 WHY DAYDREAM?
Because we are extremely passionate about paragliding and what we are doing, making every flight exceptional, that´s what defines us and our exclusive flights.
Always in the pursuit of the best gear, best pilots and giving the best service to our passengers.
GET TO KNOW US!
ONLY THE BEST IS WORTH US
When we decided to build this dream, from minute 0 we were clear about our main value, nonconformity, only the best is worth it. The best material on the market, the best possible service, the best possible experience and the best flight of the day.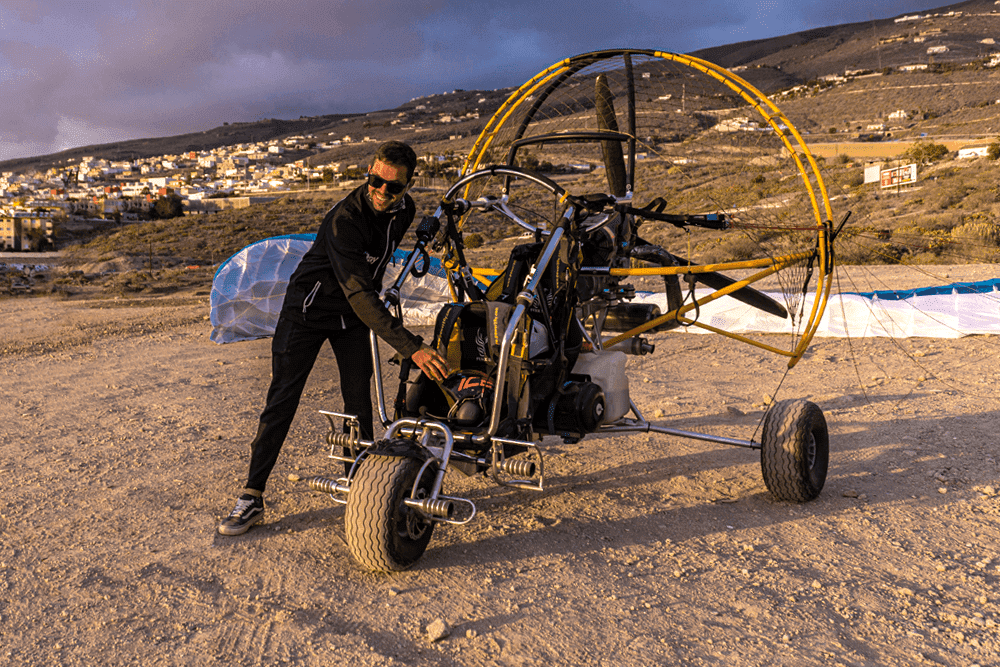 ASK ABOUT OUR DISCOUNT
Residents
FLYING HAS NEVER BEEN SO EASY
We offer you the experience of flying in the simplest way. We have worked to make the booking experience as simple and comfortable as possible. With only 4 steps you will be in the air!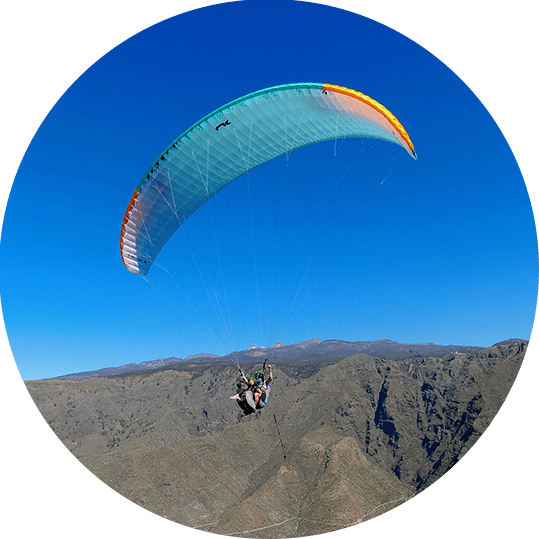 Choose your flight
Choose the flight that best suits you.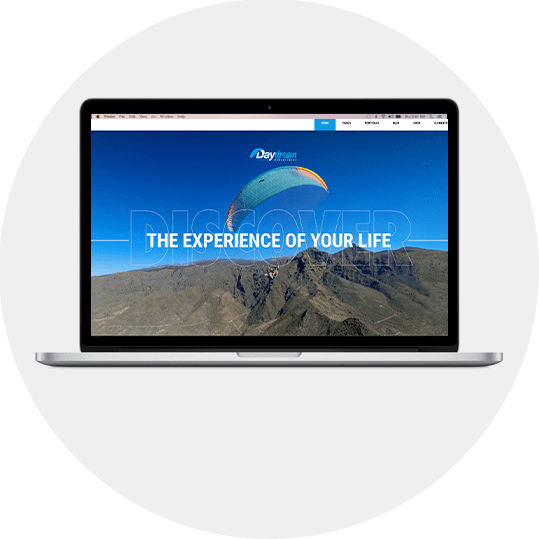 Book It
Reserva online tu vuelo y escoge la fecha.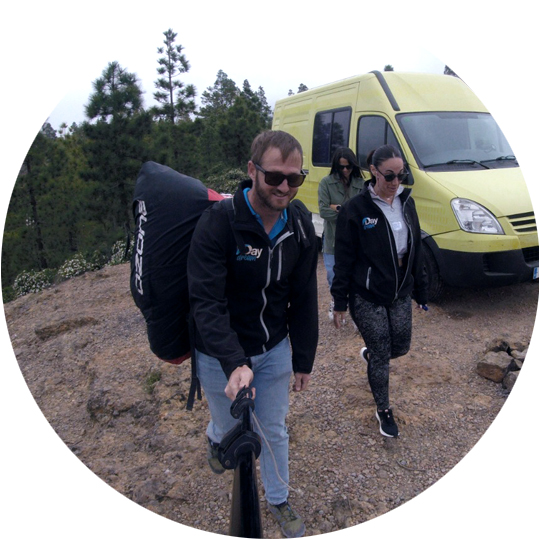 Go to the meeting point
The day has come! You are a few minutes away from going to heaven.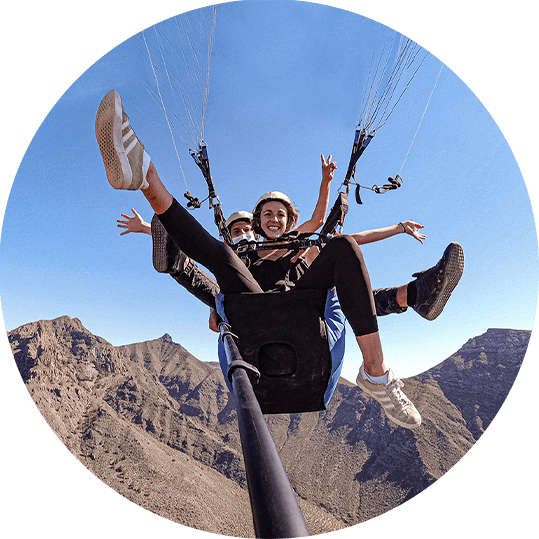 To fly!
Enjoy the paragliding flight accompanied by the best professionals.
AT DAYDREAM, WE ARE PARAGLIDING, AN INTEGRAL FLIGHT CENTER
The heart of Daydream is wonderfully universal: A company created with a clear purpose, the enjoyment of the human being. Starting from this premise, we created a personalized paragliding center in Tenerife so that you can enjoy the sky the way you want.
We only rely on the best material, the best professionals and the best attitude so that you can comfortably enjoy flying in Tenerife.
Guide
FLIGHT GUIDE
Discover Tenerife in the safest way and with the best local pilots. All services included.
Shop
FLIGHT EQUIPMENT
Equip yourself for free flight with our wide range of products from the best brands.
Yeray González
2022-08-25
Mi experiencia de parapente en Tenerife ha sido genial, David es súper profesional y transmiten pasión por lo que hacen desde el minuto 0. El reportaje de vídeo es maravilloso, estamos encantados, repetiremos!!!!!
JORGE PERDOMO GUADALUPE
2022-06-21
Experiencia increible que volveria a repetir en otro lugar. Lo mejor las vistas y las sensaciones en Paratrike
Una experiencia única y espectacular. Empresa recomendable 100% trato amable, cercano, transmitiendo confianza y seguridad en todo momento. Todo el equipo son grandes profesionales!!
The best! Amazing paramotor flight along the Adeje coast to Los Gigantes and back. David is the best pilot - I flew tandem in a paraglider with him from Ifonche too. Really safe and meticulous. Gives you a lot of confidence. I now want to take lessons with him. And a really nice guy! 100% recommended - you have to try this!! [LATER REVIEW] I flew again with David (April 2022) for the third time - absolutely amazing. I have done 27 solo flights around Madrid and am still learning, but flying tandem with David is still a great experience.
Esperienza FANTASTICA! Anche se abbiamo prenotato all'ultimo sono stati molto gentili e ci hanno fatto sentire a casa, regalandoci un'esperienza adrenalinica, tanto che arrivati a terra volevamo rifarlo subito altre mille volte :))) Professionali e seri, consigliatissimi, e se vi trovate a tenerife, da loro ci dovete passare assolutamente!!!
Luigi Silvestro
2022-02-13
Amazing experience with a expert staff
No doubt : 5 stars. What an experience. Something I will never forget. Great view. No reason to be afraid. I also had David (and yes : he's top). Brilliant foto's and video (only 20 EUR). Thx a lot. Great team.
GIZA CAROLINA LUZA ALBORNOZ
2021-09-26
El vuelo se lo voy a regalar a mi pareja y no ha podido quedar más satisfecho con el vuelo, el trato amable, cercano y con todo tipo de explicaciones anticipando lo que iba a pasar de parte de David, ha hecho que le haya encantado la experiencia y sin duda repetirá!!. Muchas gracias y seguid así 😉
¡Super recomendable! Fue un regalo sorpresa por mi cumpleaños y una experiencía para no olvidar. Espectacular poder pasar tan cerca de las montaña y ver las formas y el relieve a vista de pájaro, con David iba súper tranquila mientras me explicaba algunas curiosidades del lugar, y como me vio muy confiada al final me regaló unas cuántas acrobacias para que no faltase un poco de adrelanina, en resumen, la piel de gallina. Muchísimas gracias David. Espero poder repetir pronto.
Daydream Tenerife Paragliding is a comprehensive flight center that offers all the services related to paragliding in Tenerife, created by enthusiasts with the sole purpose of making people happy by taking them to the sky and offering them everything they need..
We took to the sky for the first time in 2002, with a passion for free flight, which remains intact to this day. We set up our base where we learned to fly, with the purpose that our clients enjoy Tenerife paragliding like we do. In Daydream | Tenerife paragliding, you will find everything you need both to discover paragliding and to become a master of the discipline: tandem flights, paratrike, courses for all levels, shop, and flight guide.
Daydream's Priority | Tenerife paragliding is to offer excellent treatment and the highest safety standards in each and every one of our activities. All our services have been designed and tested for years to achieve safe activities that provide a guarantee of success for all our clients.
Our paragliding flights in Tenerife are the basis of our services with years of experience and the safety of a certified instructor. Not only will we be able to paraglide over Tenerife, but our instructors will also make the flight a pleasant and cordial experience. Our area of activity is located in Adeje, where we teach our courses and tandem flights, with the exception of the Izaña paragliding flight, located in the Teide National Park.

Book your flight now, and discover the experience of your life!